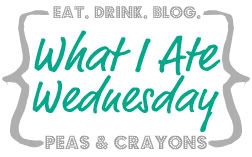 The first of many!! Can you believe it's my first time participating?!
For those who don't know, click the picture for details. And thanks bunches to Jenn for hosting!
I thought it'd be a little boring just to do my Wednesday eats, so here's a taste of what I've been eating lately...
Breakfasts:
Things like mocha green smoothies,
and dark choco-raspberry green smoothies...
and delicious yogurt bowls to stay cool in the warm weather.
For lunch:
Veggie burgers with avocado and cheddar,
and delicious, melty, gooey veggie paninis...
Mom's spinach balls and Trader Joe's veggie sushi.
And this totally yummy veggie-hummus-goat cheese-tempeh quesadilla that I ate while typing this post today!!
Dinner is usually veggie-based, so to mix things up a bit:
Nachos! [Yes, they were healthy.]
Chicken sausage + veg quinoa scramble...
and delicious sweet potatoes topped with things like cream + cottage cheese, peanut + almond butter, cinnamon and nuts! LOVE my sweet potatoes. I could live off them alone.
Dessert is pretty random. Sometimes, it looks like this:
a dark choco, banana chip + pretzel s'more with cashew butter.
So that's what I've been eating lately! As you can tell, lots of new recipes to come. ;) Get especially excited for that raspberry smoothie, it's a good one!
Happy eats!!